You won't surprise anyone with runners, especially skiers, in winter. But the bicycle is undeservedly removed to the balcony. Although you can ride even in sub-zero temperatures: several dozen Novosibirsks even go to work like this. What is needed to comfortably move around the city on two-wheeled transport will be told by Novosibirsk News, and the chairman of the movement "Hello, Bicycle!" will help with advice. Aleksey Kunitsyn.
Preparation for winter: studded rubber and tire pressure
When going to work or for a bike ride, the bike needs to be "changed". "I have studded rubber. It sticks better on ice. I try to drive on the sidewalks – the snow is cleared, there is ice under it. After the ice skating rink everywhere. In such conditions, tire wear is relatively zero: there is almost no load, as in summer, on asphalt. My kit costs 5 thousand rubles. But this will be enough for a long time, because you don't have to travel so often", – shares the experience of Aleksei Kunitsyn.
It is also important to monitor the pressure in the tires: the minimum value should not fall below the value indicated on the side of the tire. Otherwise, the cover may tear or tear off the nipple. In the cold, the air will compress, in the heat, the minimum permissible value will become zero.
It is better to use a liquid lubricant for the chain, it will not freeze as much. Mechanisms need to be lubricated more often in winter: because of the snow, more moisture comes into contact with the parts. "When you come indoors from the street, the snow melts and moisture remains in the bearings. I would advise you to inspect the mechanisms after every trip in the winter, and if there are signs of rust somewhere, immediately clean and lubricate them," Alyaksei Kunitsyn shares his advice.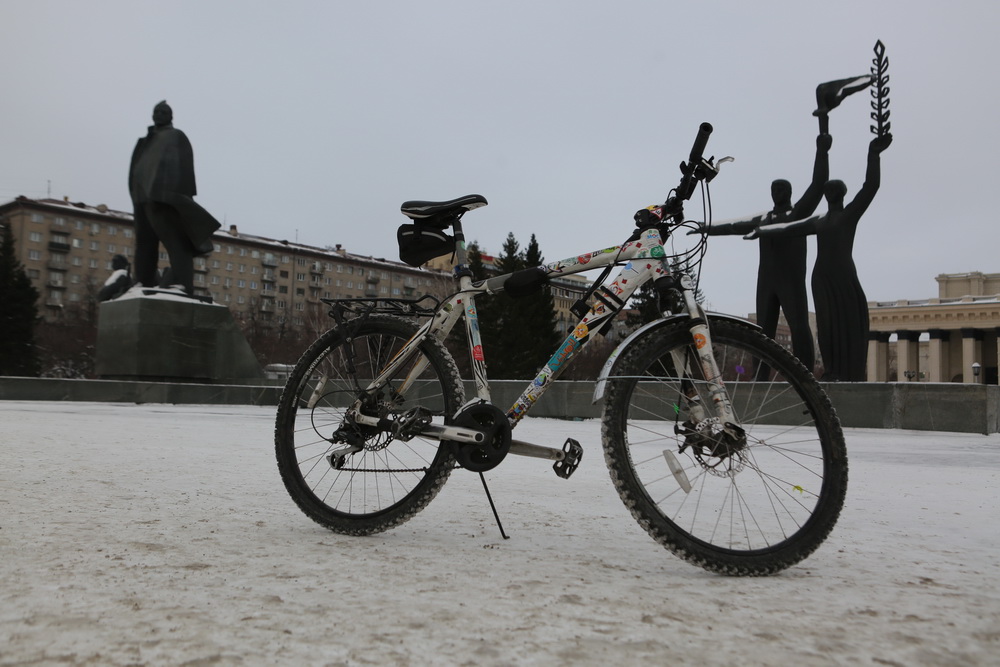 Photo: Rastislav Netisau, nsknews.info
Before winter, it is generally advised to check everything, because in summer dirty parts are not so critical, but in winter, in combination with moisture, it can become a problem. For example, the brake lines will start to seize. If the brakes are disc, do not forget about the longer braking distance. If they are rimmed, they will rust in frost below −5 and will not work. But they will warm up for 20 short brakings in a row due to friction against the rim.
To prevent dirt from the road from flying onto clothes, a bicycle needs wings.
They will save in the rain and when driving through puddles. Full-sized ones are suitable, which cover the rear wheel to the middle of the height and cover the front wheel as far forward as possible.
An ordinary bicycle bell, in which the mechanism rotates, stops ringing in the cold. The bagpipe tolerates the cold stably: the sound is just as loud.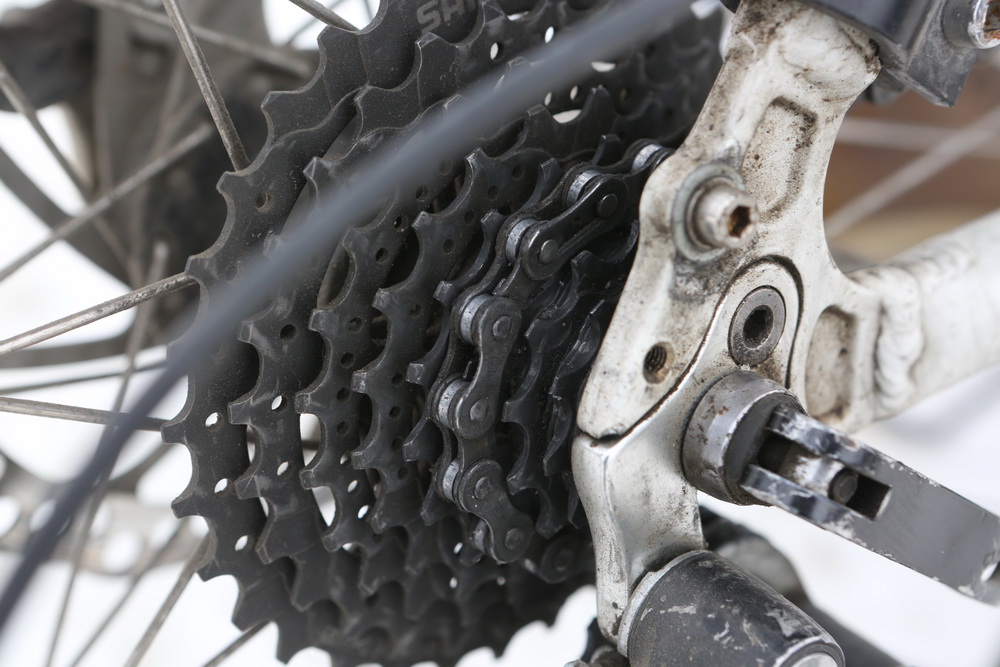 In winter, moisture can affect the mechanisms. Photo: Rastislav Netisau, nsknews.info
What to wear: special gloves and a mask
"In general, the most important secret is that a cyclist does not need anything specially for winter. Everyone thinks that I need something special, that I need three forms of clothing, to change the semi-bicycle. In general, nothing is needed, I ride in ordinary jeans and winter boots. The only thing is that I choose a ski jacket: if it's hot, I can open any valve," says Aleksei.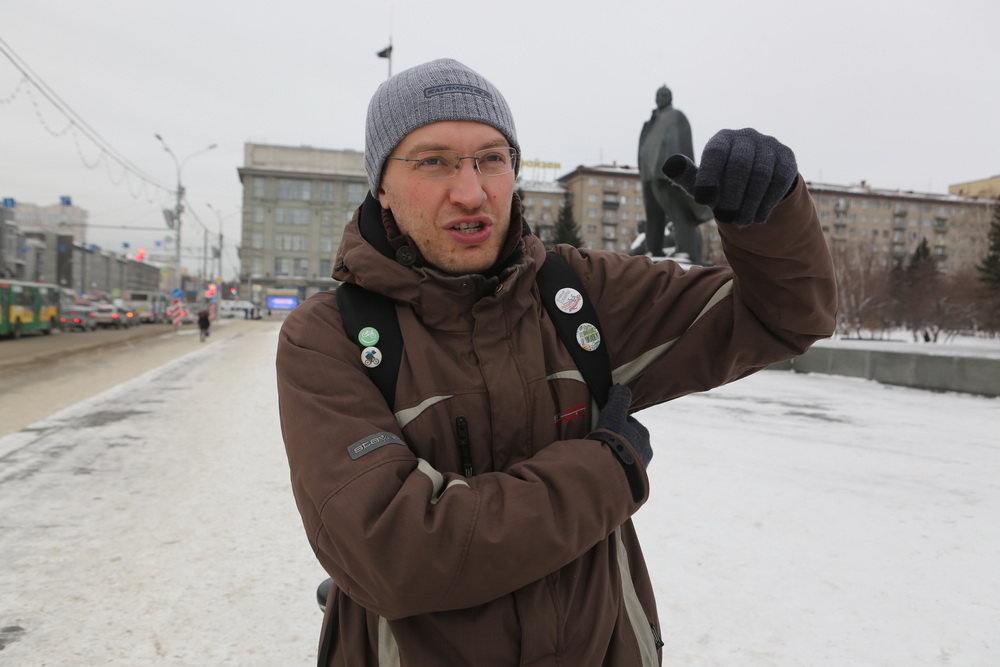 Aleksei Kunitsyn: "If it's hot, I can open any valve." Photo: Rastislav Netisau, nsknews.info
Riding a bike in winter is like walking fast depending on the load on the body. I need to guess: today I will soon walk down the street – will it be hot in my clothes or cold? You can use a scarf, balaclava, bicycle mask: in winter, as in summer, you won't accelerate, because the surface under the wheels is loose, but at least there won't be a strong wind in your face.
As a winter cyclist advises, it is better to use ski gloves – ordinary ones will be cool. As for the helmet, the surface is not as hard as in the summer. Even if it's packed snow. To ride with a helmet or without – everyone's choice.
Most often, cyclists suffer other injuries – arms and legs, and a helmet is not a panacea in this case. A winter hat is also a certain shock absorber. There are times when it is useful.
But in order to save the pants that are related to the pedals, you can roll up the pants above the largest gear, and put on warm knee-high socks below, like those of skiers and climbers.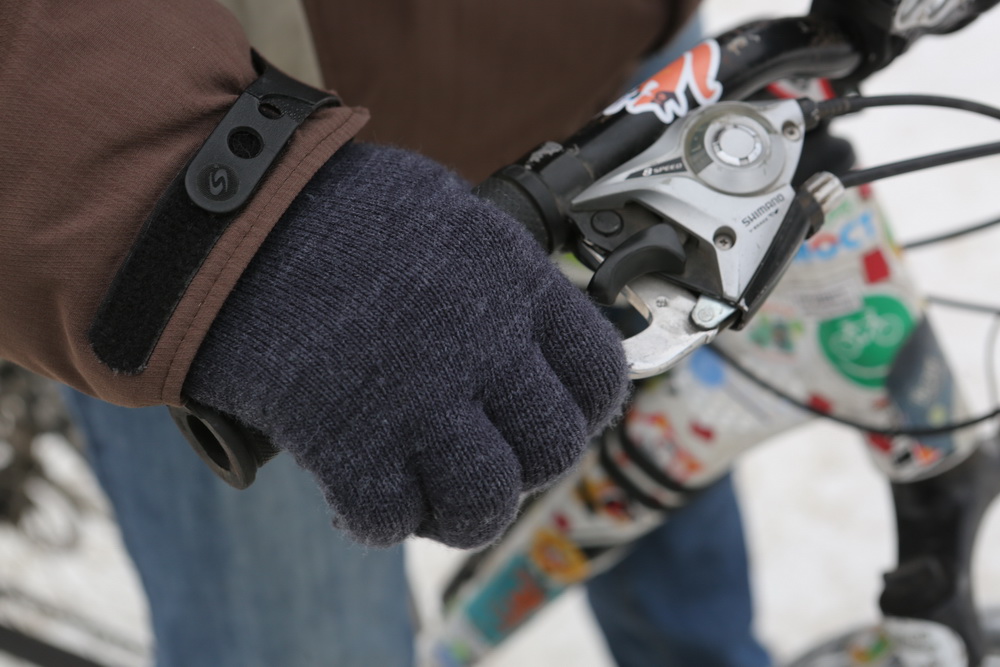 Regular gloves can be chilly. Photo: Rastislav Netisau, nsknews.info
Driving style: straight, slow and smooth
In winter, there is always a slippery surface under the wheels. That's why you can't sharply turn and transfer the bike at speed: the side parts of the tread hardly hold on snow, ice and even just wet asphalt.
Condensed snow, potholes, ice accretions and humps are dangerous due to side sliding and almost one hundred percent fall. You need to drive straight and hold the steering wheel tightly, because it will be pulled out.
You need a distance, it is dangerous to accelerate: the braking distance on a slot and ice is doubled compared to dry asphalt.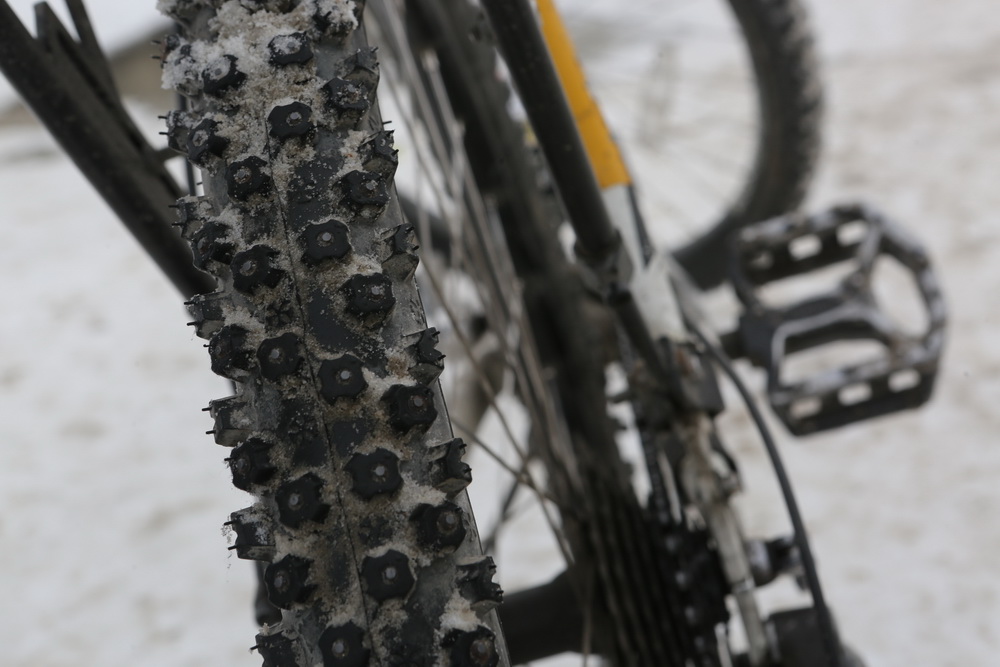 It's slippery under the wheels – it's better to drive slower. Photo: Rastislav Netisau, nsknews.info
Non-flying weather: wind and blizzard
Comfortable on a bicycle in good weather, without wind or blizzard. In winter, it should be taken into account that the exhaust gases are lower to the ground because of the cold, so it is difficult to breathe along busy highways.
"But I try to rarely drive on the roads in winter. Mostly only where the lane is marked, in fact along Red Avenue. There is an opportunity in the East. Sovetskaya also succeeds. Bogdan Khmelnytsky through the yard is convenient, I also drive that way in the summer. It is good to drive through the pine forest in winter. I mostly try to walk on sidewalks or through yards, because there is snow on the sidewalks in winter. All this lengthens the journey," says Aleksey about his ride around the city.
It is comfortable to ride a bicycle for a distance of five to seven kilometers both in summer and in winter. In winter, these five to seven kilometers take more time, the speed drops. If in summer it is about 24 km/h, then in winter – about 15 km/h.
"On the other hand, my journey by public transport from home to work in winter also takes significantly longer. Drop in speed in all modes of transport. And I still get to work faster by bicycle," says Aleksei. From the 4th microdistrict, you need to reach it to the intersection of Narymska and Dusi Kavalchuk streets.
If you don't feel like cycling on the way to work, you can just ride in the winter. Non-profit bike club "Ryder" on social networks often gathers like-minded people for winter mini-hikes and bike rides. Routes are not as long as in summer.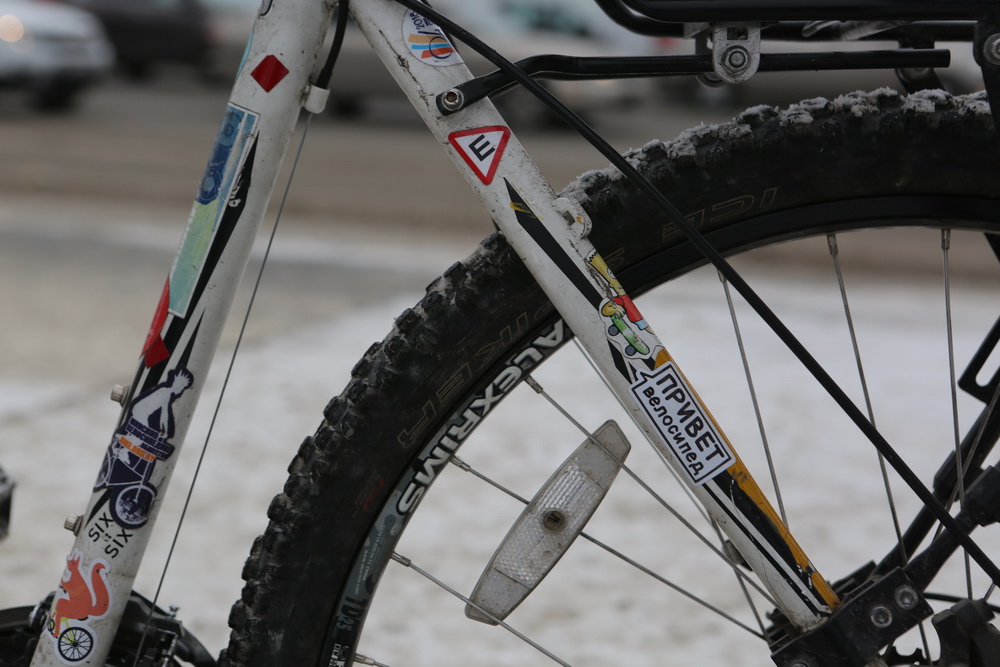 In winter, cycle routes are shortened. Photo: Rastislav Netisau, nsknews.info
A foreign example: the Finns drive in -30
The most striking example of winter cycling is the Scandinavian countries. Especially Finland, where there is the city of Oulu. The location almost on the Arctic Circle does not prevent residents from positioning it as the capital of winter cycling.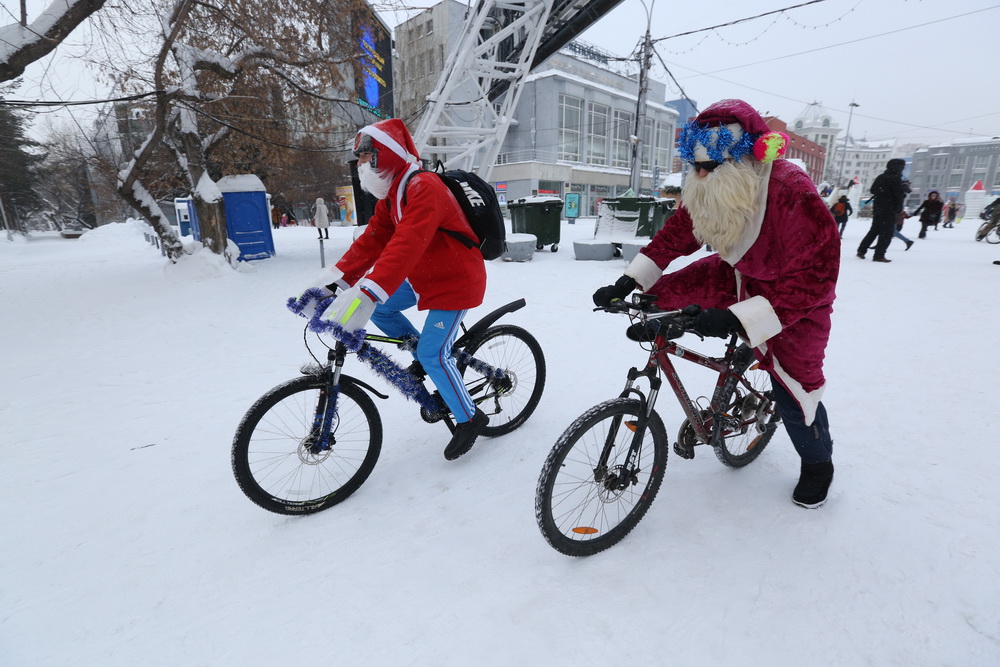 Cycling club "Ryder" often gathers like-minded people for winter bike rides. Photo: Rastislav Netisau, nsknews.info
"Almost half of their trips are made on bicycles even in the summer. This is a huge figure for any other cycling country apart from Amsterdam in the Netherlands and the Danish capital. In winter, the number of two-wheeled transport users drops in Oulu. Only 20% of trips are made by pedaling. Their minimum in many other countries is close to the peak.
And residents of Oulu drive even in 30 degrees of frost. Their average annual temperature is even slightly lower than ours," says Aleksey Kunitsyn.
There are similar examples in Canada, in the province of Quebec – the city of Montreal. According to the bicycle activist, this order of street cleaning works everywhere: first the equipment cleans pedestrian paths, then bicycle paths, and only then highways.
The main argument of Canadians and Scandinavians is that people make most of their movements without transport: from a car or bicycle parking lot to a classroom, a store, an office or a family home, you still have to walk at least a little.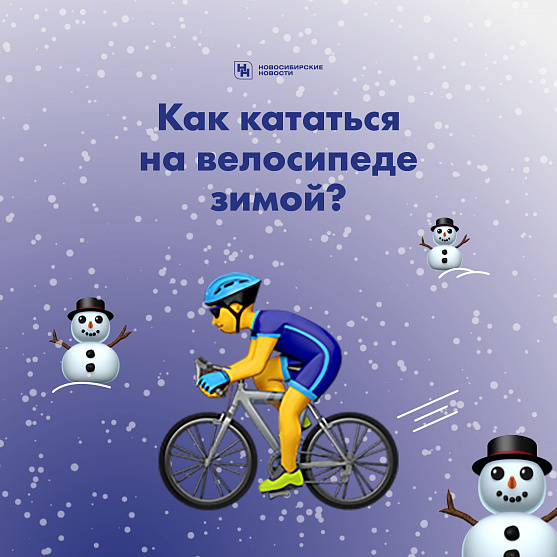 The material was first published on the Novosibirsk News website. January 9, 2019 years.
#Bicycle #Sport #Sports City #Transportation #City in Motion #Photo Gallery #Infographics