Stanislav Dobrau is a cyclist from Tula. In two months, he was able to get from the capital of arms to Vladivostok. It is almost ten thousand kilometers. To be precise, 9,600 kilometers in 61 days. Now Dobrov is already in Tula. I got back much faster by plane. The bike, however, has not yet arrived from the capital of Primorye.
How did the idea for the trip come about? He sat and sat and decided: "Come on, I'll go from Tula to Vladivostok by bicycle"?
This is not my first trip. Last year I went to the Black Sea in Novorossiysk. I wanted to go to Sochi, but I got to Novorossiysk, looked on the map for the serpentine there and stayed in Novorossiysk. I bought a bike, watched YouTube, but I always liked riding a bike. Decided to try. I had never traveled with a tent before. I only went to Kanduki once to see what was going on. So he pulled away, drove off.
It turned out fine, only the wheels constantly punctured. Returned home, spent a whole year thinking about what to do next? Baikal? I think it is not long before Vladivostok. So it is necessary to close this gestalt, to complete the main route of the Russian cyclist.
So I understand, you didn't just sit down and go? Was there any preparation?
No, only technical. Watched videos of travelers to understand what they took, what they didn't take. Made a huge list and optimized it. They travel with huge bowls. I don't want that. At the maximum reduced the list.
Before the New Year, I thought that when spring starts, I will ride every day, try to ride a hundred kilometers a day. As a result, it's cold, it's cold, it hasn't snowed for a long time. When I was able to leave, in two or three weeks I drove a hundred kilometers. For several departures. And the time was coming, June 1 came. I thought: "Okay, I'll go." I drove 150 kilometers on the first day, and also on the second. Actually, the first days were training.
First overnight stay. Where was she and what were her thoughts? Yes, I have driven 150 kilometers, but there are still 9,000 and more to go.
The first thoughts about the fact that I had driven so much, and so much more, began to appear much later. The first days were adaptation. It was necessary to understand what was happening at all? Where am I and why am I not at home on the couch? It was easy.
The first overnight stay was in the Ryazan region. At first, I sat down at the bus stop and thought that I would sleep at the bus stop like a real cyclist. But the cars kept driving. Crossed the road, pitched a tent in a small landing and spent the night.
Got a bunch of earplugs. I thought that I would have to put them in my ears like last year so that I wouldn't hear anything. But I was so tired that I cut them off and didn't even use them. He did not use them during the entire trip. The tent was placed under the railway line. Trains were constantly moving there, cars close by. You sleep like a dead man. Never slept so well!
The tent is fine, but…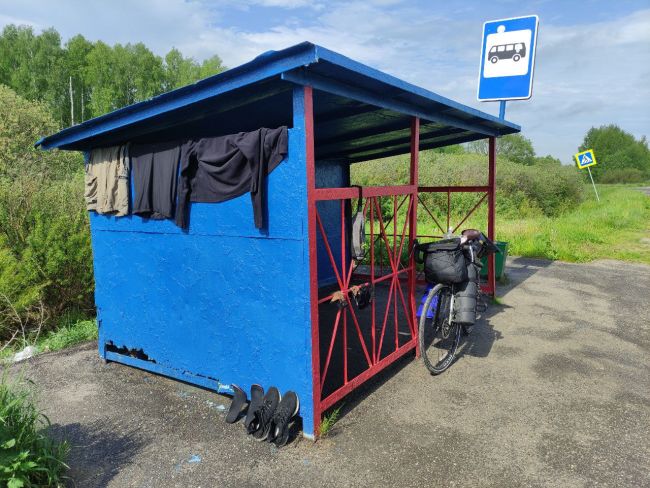 … but better at the bus stop!
Is your big one cool?
No. There was a fashion for these bikes in 2017 or 2018. Universal, between mountain and highway. Then I didn't understand anything about them, just by their appearance. It is aluminum, does not absorb shock. The very bottom in all this [велосипедной] party people Then it cost 40 thousand somewhere.
And yet, when the thought "why am I doing this?" and "I want to go home"?
There was no thought "I want to go home". Why am I doing this? There was no thought either. It was simply interesting. There were unpleasant thoughts when everything was boring and despair. It is in the Transbaikal Territory. There are hard passes, quite high and stable. But it is not so terrible. It's terrible that there were heavy rains almost the whole week. You drive a little and it started raining. We need to find a stop.
Rain is not so bad. The problem is if it is all the time. Wet some things, others and that's it. You won't sleep normally, you won't put up a tent, you won't dry off, constant discomfort. Then there was despair. There were thoughts of finding the station, getting on the train and getting to Vladivostok. Defeated himself.
But it was already close to the finish line.
Yes. This is the toughest section that even motorists are afraid of – between Chita and Khabarovsk. There is practically no civilization. Cafe or gas station – 100-150 kilometers between them.
The track is good there. It is worth turning to the side… It is already after Krasnoyarsk. Or even after the Urals. And this percentage is increasing, increasing. And in the Trans-Baikal region and beyond, there, in general, the primer is a hev bridge. Even some large settlements, and they are being primed.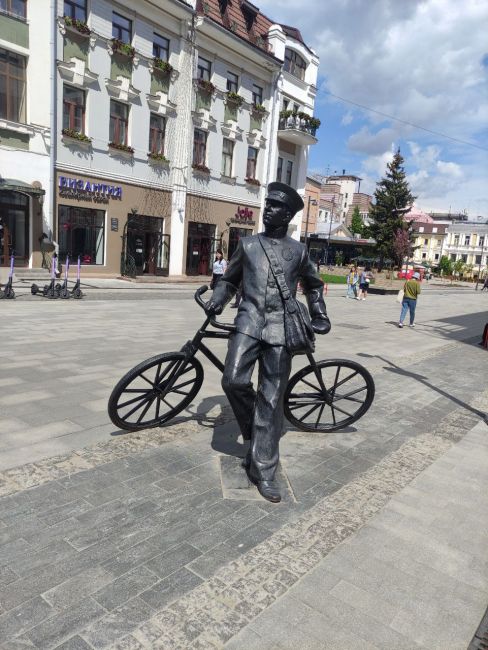 Monument to the postman in Nizhny Novgorod.
Is Russia different before the Urals and after the Urals?
People – no. But with landscapes and landscaping, yes. It's getting closer to the Urals, and more distances are starting to come. When the highway was built then, it was built far from populated areas. It is necessary to drive another five to twenty kilometers from it.
And people? Are they good everywhere?
During the whole journey, I met only good people. There were people who were in a bad mood, a little rude.
They helped you. And eat, and…
They even provided overnight accommodation twice.
Tell me.
Once they allocated their house, and the second time they invited me to their home, a distant room. I met one by chance. This is Yuri Kimych. It was in the Amur region. I drove 180 kilometers in the evening. As usual, it's a habit to look to the sides, thinking about where to pitch the tent. He turned his head to the left, saw a quarry. I thought it was a good place to spend the night. On the top I saw some outlines – either a motorcycle or a bicycle and a tent. I stopped, and they waved at me from there.
Tamaka is a man, he is 66 years old. Yuri Kimych. He from Birobidzhan wanted to reach Baikal by bicycle. But he realized on the way that he couldn't do it. Age, health.
66 years old? Commendable.
Yes! He is so cheerful. I thought then that I went to socialize and get to know people and stayed with him. We found common topics, talked and he invited me to his place in Birabijan. I promised to reach him in two days.
This is 200 kilometers per day. And there is such a relief… Before that it was quite flat, and after that moment the sheet metal began! Hills and headwind, pouring rain. But I promised. And he drove 200 kilometers per day.
He accepted me. He gave his old house. Tamaka has a lot of books, everything is good. He has something like a man's den there.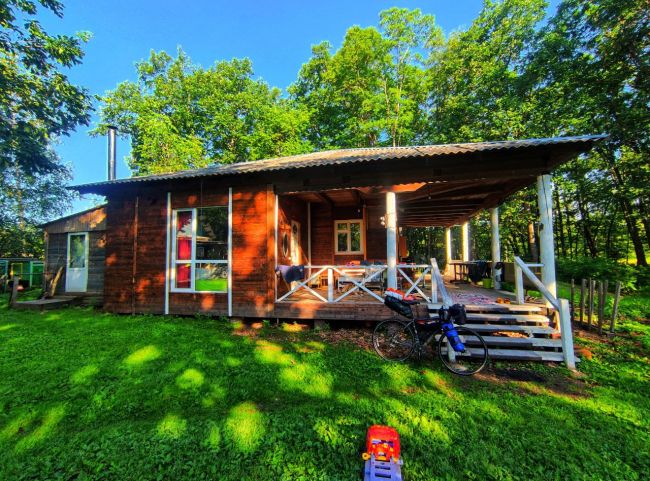 Now there would be such a den in Birabidzhan…
And you yourself were not afraid to sleep in a tent? Big steal…
Didn't even think about it. Tried to find adequate places to spend the night. Near the cafe, for example. Think for yourself, why would a working man from a cafe rob a cyclist? Truckers don't need it either. And I never stopped in the villages.
Stopped at parking lots for truckers. He approached the guard and asked… You know, you have to ask correctly. You will come up and ask: "Can I pitch a tent?". The easiest answer is no. I would go up and ask, "Where can I pitch my tent so I don't disturb anyone?"
He can no longer take no for an answer and starts thinking about where I can pitch my tent. There was security, boiling water. It was possible to brew a pie, "doshik", tea, talk with people.
About boiling water. You were surprised that in one of the cafes it was paid.
Look, it was an isolated incident [что платил]. They have imported water there. Yes, this is often the case. They also want to earn money. Truckers come with large thermoses, and they sell them. When I asked for boiling water, they told me the price, and I said that I just wanted a cup. They said to pour like that. And in one place, I just ordered and ordered, and they thought I was boiling water. Maybe if I had asked separately, they would have given it for free.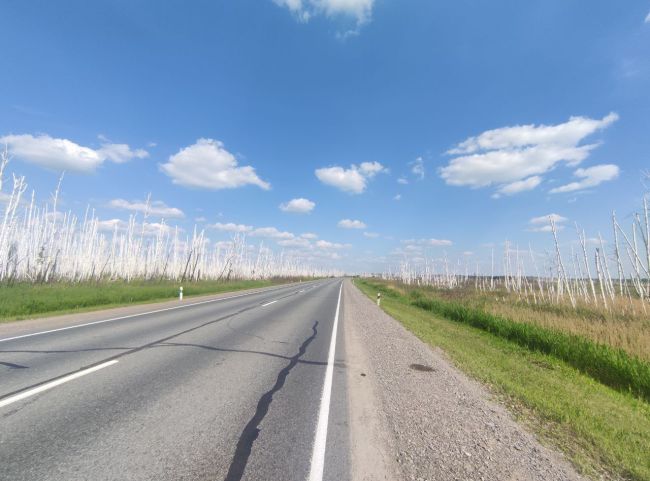 Somewhere in the Omsk region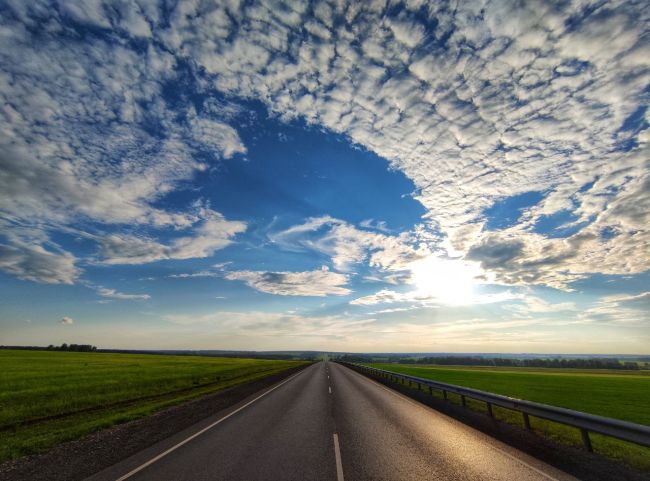 Somewhere in the Novosibirsk region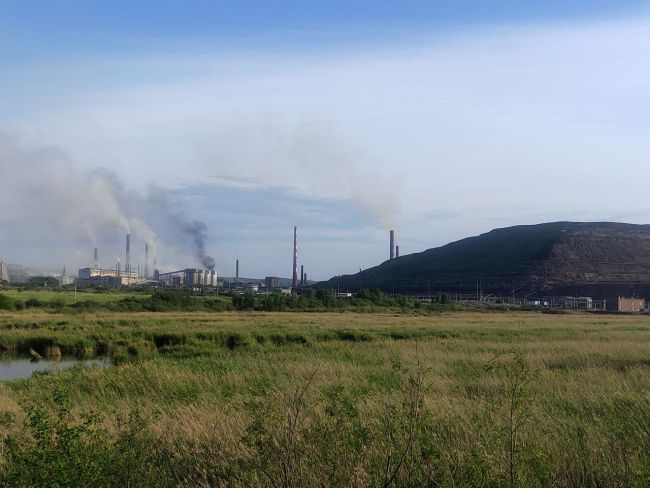 Somewhere in the Krasnoyarsk Territory
The most beautiful place you've been?
I liked big cities. Good asphalt, many sights, monuments, parks. And if it's nature, then it's the Irkutsk region. The scenery there was constantly changing. Fields, mountains, forests, coniferous forests. Such even pines, one to another! Welcome… Beautiful!
Beautiful in Buryatia. It is right behind Baikal, and it is surrounded by mountains. In the Irkutsk region, you also drive to the right of the mountain. You enter Buryatia and there are mountains on the left. And you drive between them on a perfect plane. Good road, beautiful mountains. After Ulan-Ude, it is even more beautiful, the ups and downs begin, the mountains become closer.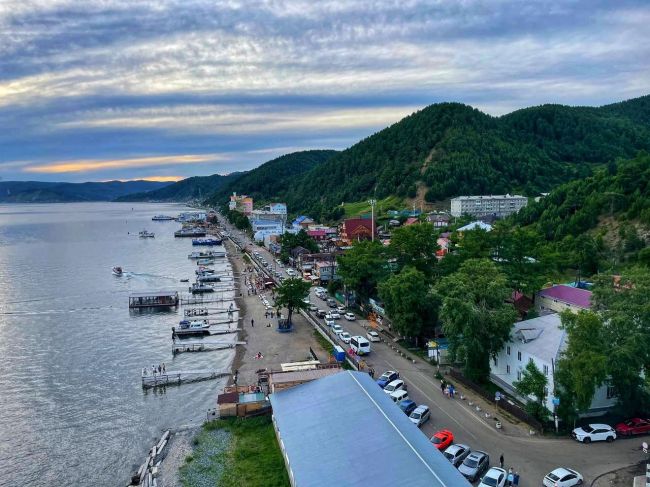 Lake Baikal in the village of Listvyanka near Irkutsk.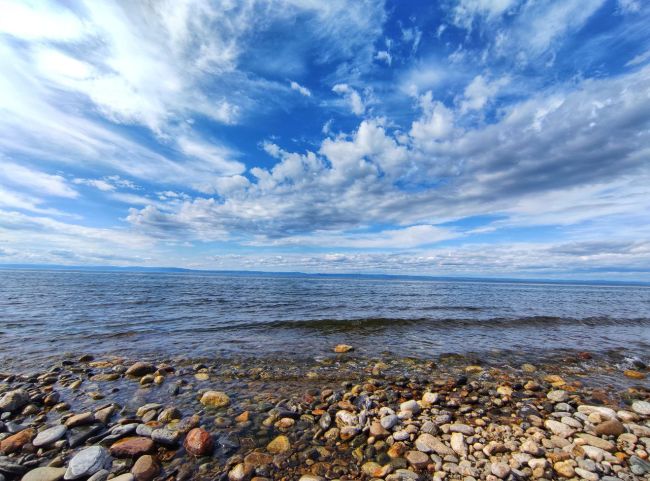 Also Baikal
And the Central part of Russia? Is everything the same?
You know, I was very surprised, but Ryazan is not very similar to Tula. In Tula, there are more fields, and there are many wetlands and coniferous forests. Maybe, of course, I chose such a section, but there was a contrast.
How was a typical day? Did he pedal tirelessly or did he always stop by to admire, look, study?
The main goal was to overcome yourself and finish the route. That is, he pedaled. I woke up, ate what I could, or if I couldn't, I drove to a cafe and ordered some macaroons, and then pedaled all day. Tired? Stopped, lay down at the stop, when the bench is intact and on. You twist and turn the pedals.
You still spent the night in some guardhouses.
There is a lot of forestry. So that tourists do not go too far into the forest and light fires, gazebos are built along the road. Some of them are not very good, of course… I found a top one in front of the Embankment Boats! I found a coffee shop in Transbaikal region, went there. The cafe isn't open, but there was an awesome gazebo with solid tables! He sent a mat, a sleeping bag and slept right on the table.
High?
Yes! And the best part is that the tent does not need to be disassembled.
Once in the Trans-Baikal region, when it began to get dark, he turned a clean shovel onto the ground. I saw that there was a railway, I thought I would put up a tent there. And there is an open road house. It's just heaven… It was clean, I hung my clothes. Just a gift. Also 4G caught!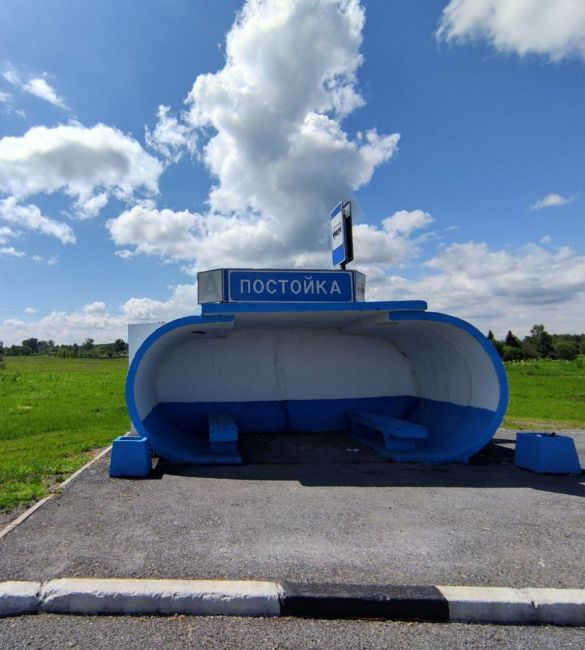 When the stop itself persuades you to rest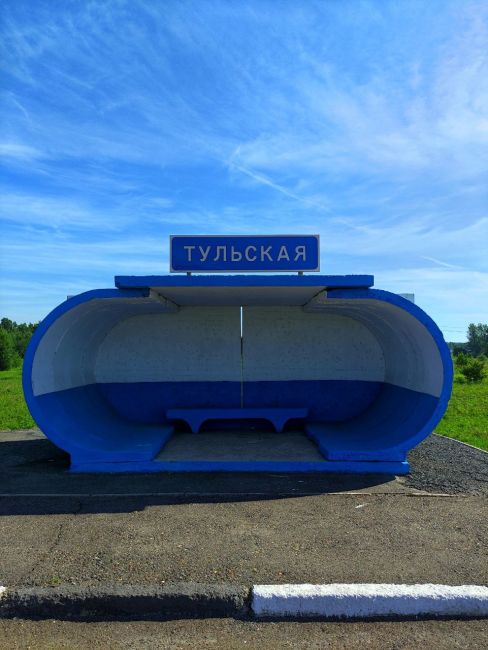 And how do you like it in the Krasnoyarsk Territory?
How are the roads in Russia?
If federal, then it is five minus. If… No, four. Because there was no sidewalk in some places, you had to drive on the roadway.
Scary?
You get used to it. It's not trucks that are scary, but dudes in right-hand drive cars that blindly fly out to overtake. That's what's scary! And trucks, when overtaking… I had to sharply jump to the side. There was a section in Primorsky Krai where there was no sidewalk at all. And solid, not solid, the turns fly out and are not looked at.
Is the driving style different?
Not a fan of judging by regional principles. There are fools everywhere, but there… Maybe they are just not used to cyclists there?
What were your thoughts on the last day? Relief?
Naturally. You didn't have to think about getting back on the bike and riding again, rain or shine? It became easier. You don't think about difficulties and how you will solve them. But there were other obstacles. For example, how do you ship a bike? How to get there by car or plane? As a result, sent a large transport company. While he is in Moscow.
I walked around Vladivostok, after a couple of days I knew where to go and which bus to get on.
I was completely satisfied with the trip. Even in difficult moments it was despair that you can't handle the weather. It didn't feel like I was doing it for nothing.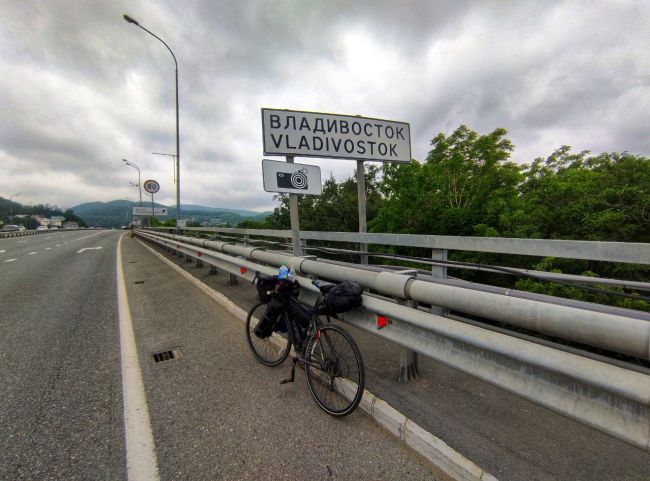 Hooray!
Describe Russia in three words.
Boundless. Beautiful. Boundless beautiful Russia.
What's next?
I don't know, I didn't think. Maybe the thought will come later. He wanted to go abroad.
Where?
One would not go. You need to find a partner or a group. Not really where. In general, I originally wanted to do a big circle around Europe. In 2020, there was covid, now there are other unforeseen circumstances. That's why I can't get to Europe. In the near future, I don't think it will be possible. Plus, prices have risen. Maybe towards Turkey or Abkhazia.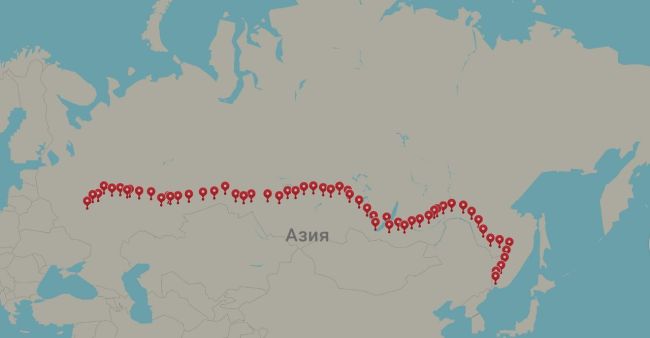 Parking map. How do you like it?