Have you already acquired a two-wheeled friend and are about to go on your first ride? Take your time. To begin with, you should think over the route, collect the necessary things, check the bike… and that's not all! We have described for you several steps that must be taken before starting.
Prepare your "horse" for the trip
The way you treat your bike determines how long it will last.
Test drive a new bike
At the time of purchase, you checked all the features and were satisfied. Now there are a few things you need to do before your trip. Inflate the tires and install the fenders if they were not originally there. Do a couple of test laps. Practice shifting gears, change seat height if necessary. Is everything okay? Then go ahead!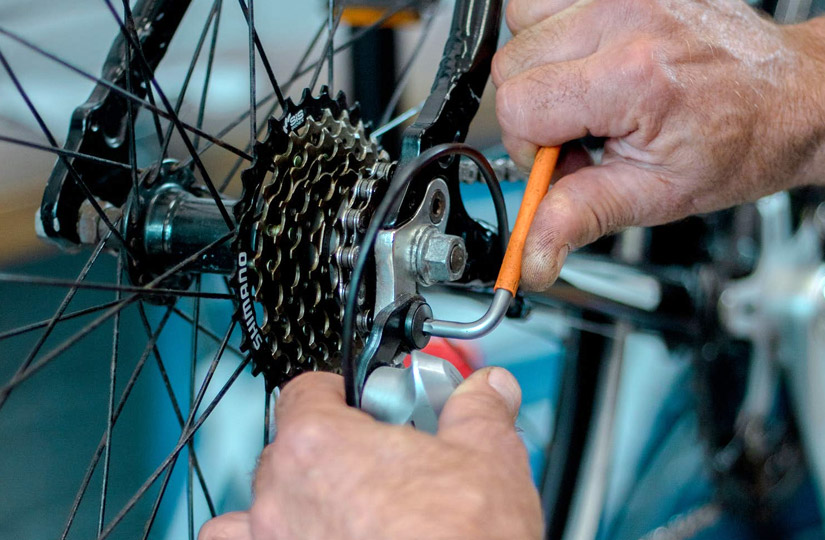 Fix up a bike that has already clocked up a lot of mileage
At the beginning of the season, it is advisable to take the bike for maintenance. Or you can try to put it in order yourself.
Wash the bike with a sponge. You can do it in the bath. The main thing is not to use strong water pressure, otherwise the grease can be washed out of the carriage and bushings.
Inspect the bike. See obvious damage? Then you should go to the bicycle workshop.
Check the condition of the circuit. Its resource is about 4000 km. However, this number is relative, driving style and road condition play a big role. Knocked out or severely worn links indicate that the mesh chain needs to be changed.
If everything is fine with the chain, clean it with an old toothbrush and a special liquid. Wash off the product and dry the chain.
Lubricate the chain. Some use machine oil, but experts still recommend professional lubricants. Apply the product drop by drop to each link. Then wipe off the residue. The chain must be dry on the outside and lubricated on the inside.
Tighten all bolts.
Check the brakes. The course of the tracks should be smooth.
The spokes on the wheels must be tensioned with the same force. To check this, pluck them like guitar strings. A loud sound indicates good tension. If one of the spokes "sounds" different from the others, loosen or tighten it.
During the winter, the rubber on the wheels could harden a lot. You can soften it with lemon juice: just squeeze it on a rag and rub the tires.
Pump up your tires.
Follow the rules of storage so that preparation for the season takes less time and effort. The bicycle must be wintered in a clean and dry room. The chain can be removed, cleaned, lubricated and stored separately.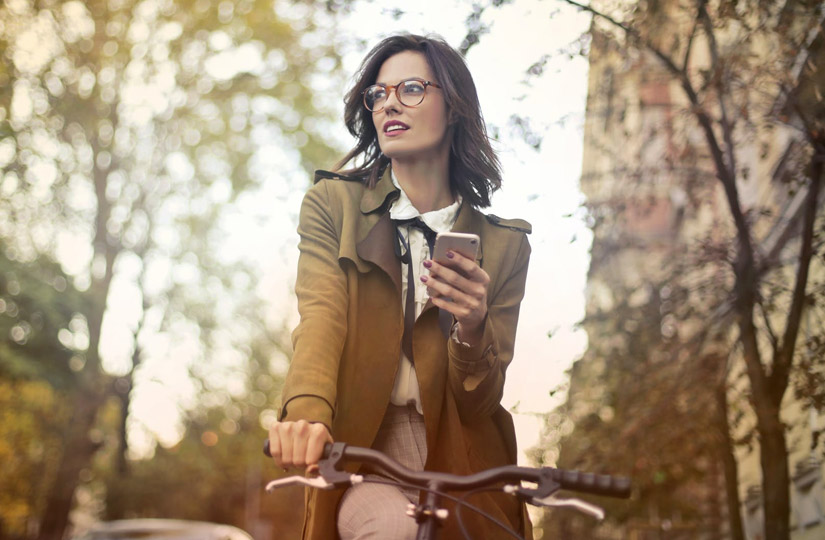 Build a route
Maybe you want to take a slow bike ride in the park, go to the forest or just take a ride around your favorite city. In any case, to begin with, we advise you to study the bicycle routes.
There are many free applications that will help you in this, which will lay out the optimal path for the cyclist. Let's talk about the advantages of three of them.
Google Maps: offline map, good detail of the picture, clear relief of the terrain, which is very important for driving style, even small paths are displayed that are not known by other services and are suitable for times.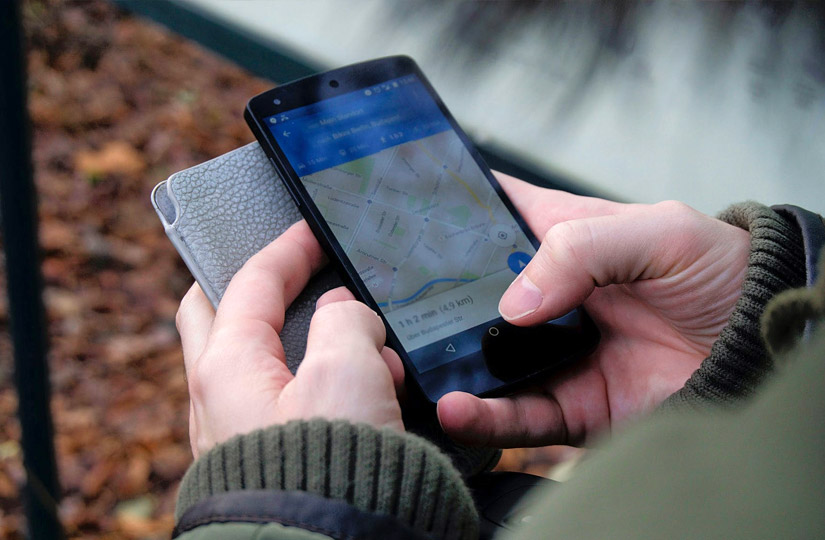 Bikemap: combines tracks anywhere in the world, offers different routes, allows you to share routes with other users, takes into account the type of bike for a particular track, displays ascents and descents, allows you to mark roads and leave comments.
Strava: sports social network and global activity map. Works as a training diary: shows distance, pace, speed, calories burned, heart rate, intensity of exercise. There are statistics of cycling races, a motivation system, you can compete with those who have already ridden a certain route. But does not work without access to Google services.
The applications will help you choose the tracks that are optimal for your requests: on winding forest paths, cross-country, downhill on asphalt, on competition sites and ski tracks.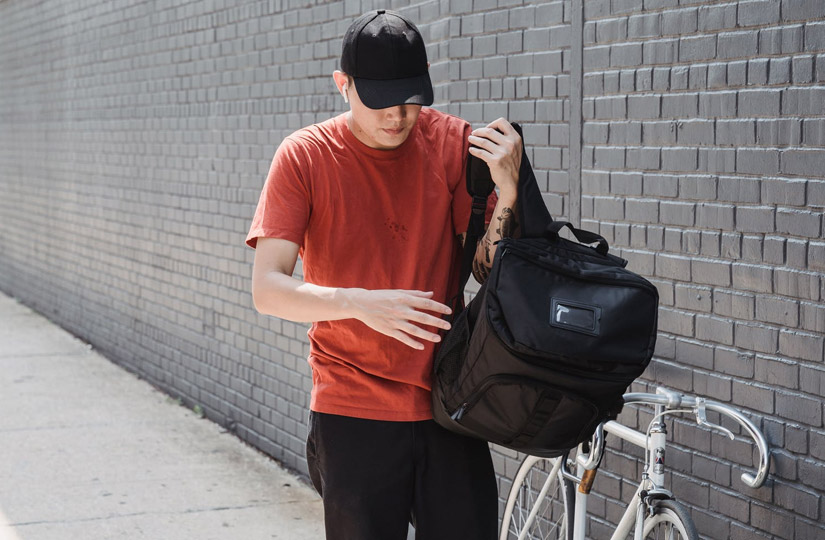 Choose a backpack and a bike lock
Backpack optimal for a cyclist. Its volume and form largely depend on the purpose and nature of the trip. There are even special cycling bags with a rain cover, helmet mount, reflectors and a built-in hydration system. However, the most important thing is that the backpack has a comfortable anatomical back and a mesh for ventilation.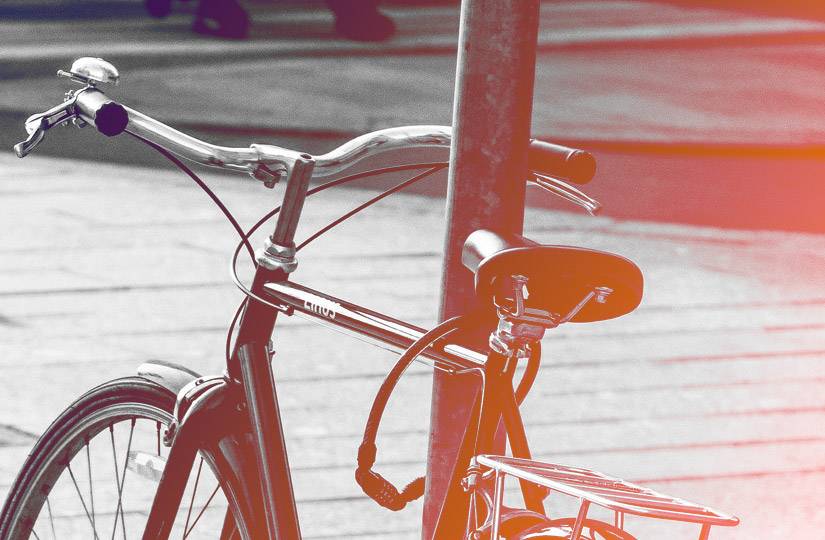 Don't leave without a reliable one bicycle lockwhich will save the bike from thieves. Be very careful when choosing it:
If you take chaincheck that the links are securely welded.
U steel twisted cable the wires must be intertwined several times, and the cable itself must be stored in a sleeve made of durable plastic.
U-shaped lock is also considered reliable. However, it cannot be fixed on a volumetric support.
Unfortunately, almost all locks can be bitten with hydraulic shears. Therefore, you should not leave your two-wheeled friend alone for a long time. It is advisable to park in crowded places with cameras.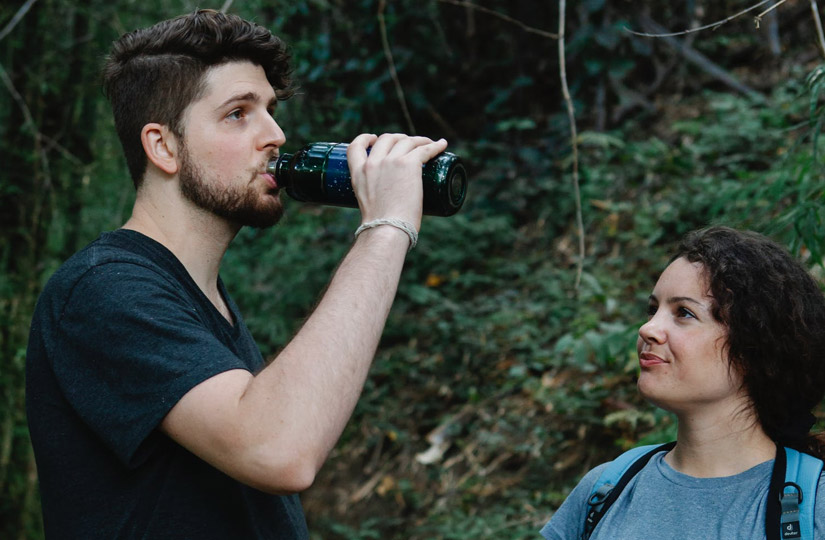 Pack everything you need in your backpack
The contents of the backpack may vary depending on the length and complexity of the trip. Here is a simple list of essentials:
A bottle of water and a snack in case you want to have a picnic.
If you're going to ride around town, put it on helmet. And it will not be superfluous in trips through the forest either.
It will be useful at dusk or in the evening headlamp.
Wet wipes and plasters will save you if you accidentally injure yourself.
Insect repellent will be needed in nature.
We do not recommend taking the player with headphones. You need to keep an ear on the road, especially when driving on the road.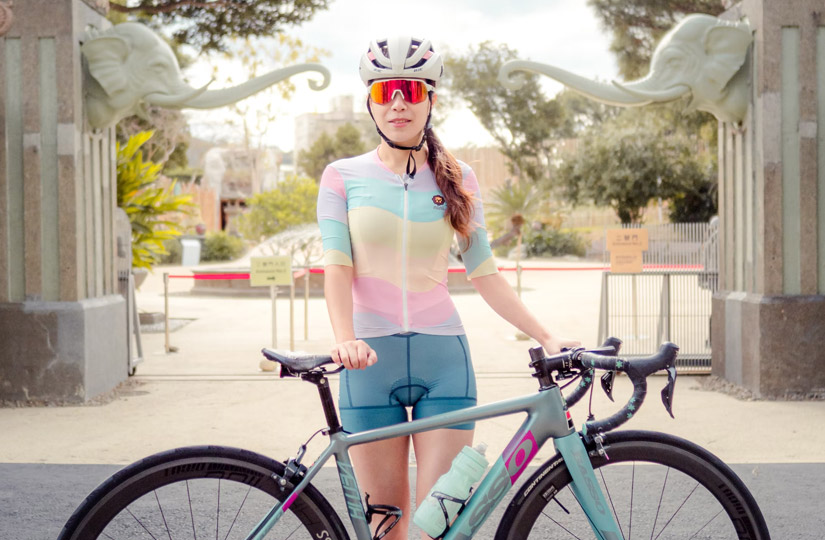 Choose the right clothes
If it's warm outside, wear a T-shirt, cycling shorts or a comfortable leotard. Don't forget your sunglasses. The fabric should wick away moisture, synthetics do a good job with this. Grab a waterproof windbreaker just in case. Meshes in the armpit area improve ventilation during intense movement, and the stand-up collar will protect the neck from burning.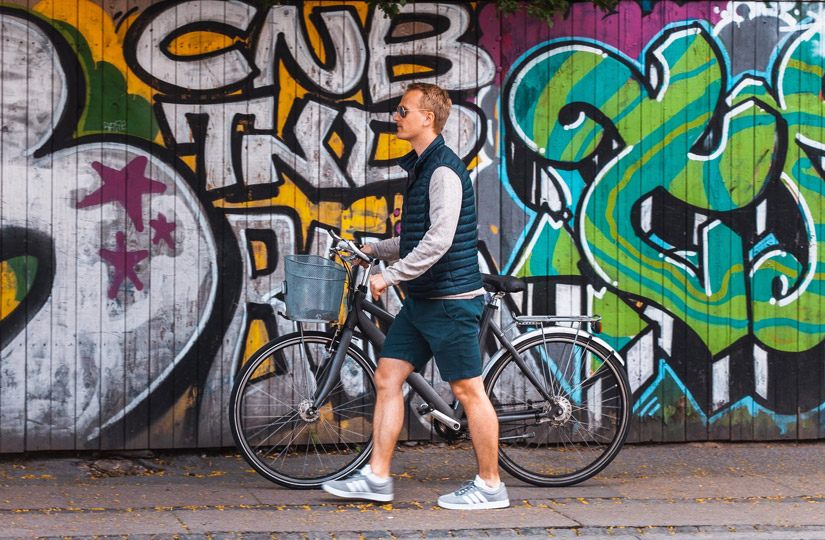 For cool weather, a comfortable sweater, arm warmers, gaiters and a vest are suitable.
Wear cycling gloves (many like them with helium inserts) in all weathers. They will provide comfort while driving and protect your hands in case of a fall.
Clothing should have reflective elements: with them you will be more visible on the road in the dark.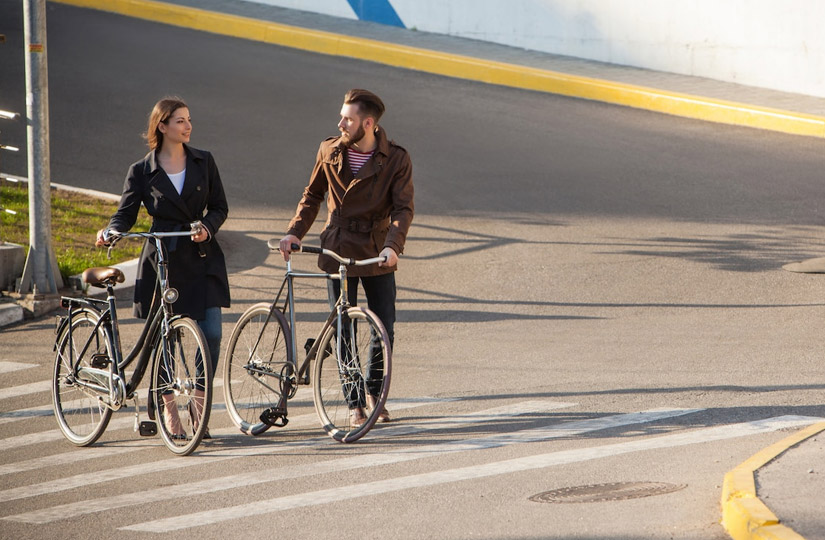 Remember the traffic rules
This will help you avoid accidents and fines. For example, you cannot cross a pedestrian crossing while sitting on a bicycle. For this you will be fined 800 rubles.
You can be fined the same amount for driving on the pavement. However, this happens very rarely, because there are very few bicycle lanes in most cities. However, from the point of view of the law, only cyclists between the ages of 7 and 14 can ride on the sidewalk.
Driving under the influence of alcohol can result in a fine of up to 1,500 rubles. The same amount – for creating obstacles for road users. If people are injured because of the cyclist, he faces criminal punishment.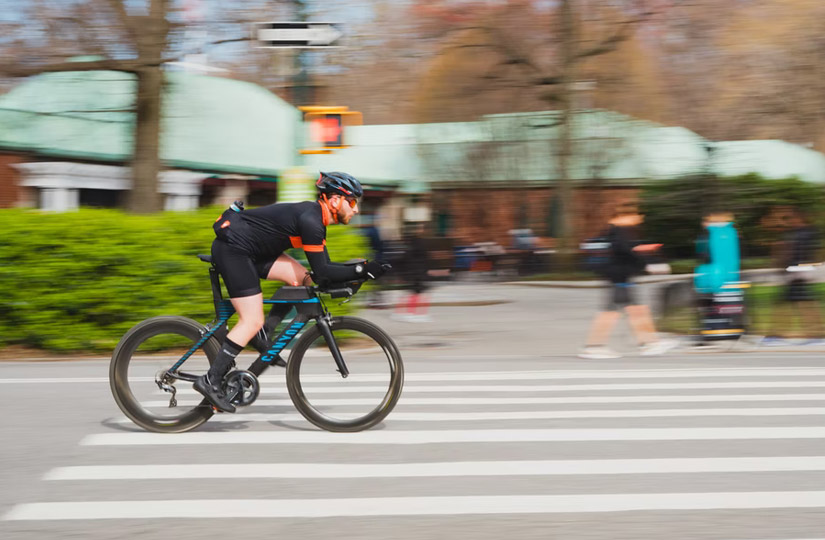 There are still a lot of limitations. For example, you cannot:
drive without holding the steering wheel;
transport children without a specially equipped place;
turn left and turn around on roads with tramways and on roads with more than one lane;
transport cargo that protrudes laterally by more than 0.5 m;
tow another bike.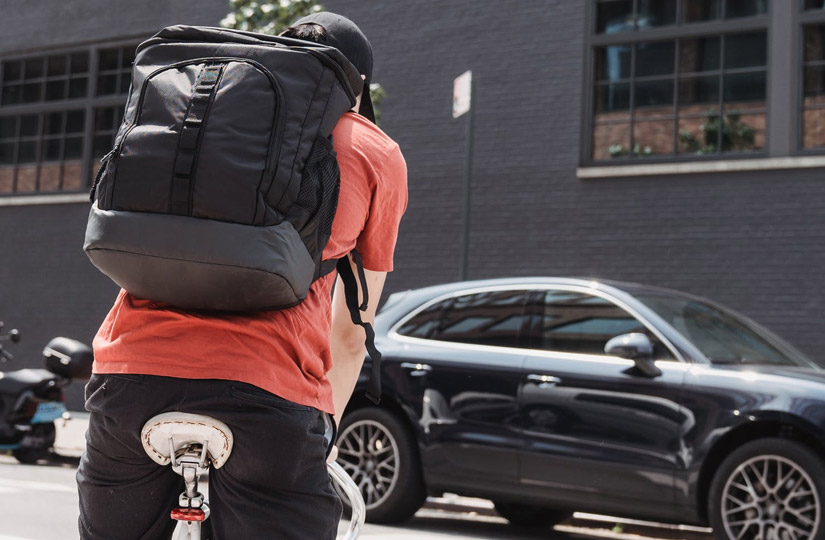 In some situations, the amount of the fine and punishment may vary.
You must follow the flow of other traffic and be as predictable as possible for other drivers. When you are going to turn or stop, signal with your hands.
If you take into account our advice, "bike rides" will surely bring you a lot of fun! Have you already opened the cycling season?