For some people, a bicycle is a means of transportation from work to home, and for others, it is an opportunity to have a pleasant time in the park. Some see it as a physical activity, combining the pleasant with the useful, while there are those who go up the hill with it to slide down with the breeze. It is the latter who do downhill or, as this sport is also called, high-speed cycling.
Ivan Kunaev
prize winner and participant of international MTB competitions
I have been interested in bicycles since childhood. First there was BMX, then a simple mountain bike, and then it was fast. It took me so long that I can't stop.
In fact, it is the mountains that beckon. Every time, going down from there to the plain, you want to go back faster. It's difficult to describe, but those who ski or snowboard in the mountains in winter or do mountaineering will surely understand me.
What is downhill?
Downhill is a relatively young sport that appeared at the end of the last century, but it has already declared itself loudly and confidently. Every year, more and more people around the world come to this sport, because downhill skiing feels similar to downhill skiing or snowboarding, but only in summer.
The essence of the discipline is to go down the mountain as quickly as possible on a mountain bike. All the time, the athletes rush down the slope, jump on large jumps, drive through land turns and various counter-clons. To continue skating, after the finish, the athlete must climb back to the starting point by any means possible.
What should the bike be like?
Although outwardly similar to ordinary mountain bikes, downhill bikes are very different from them in terms of characteristics and components. In downhill, only double-suspension bikes are used, i.e. bicycles with a shock-absorbing fork in front and a shock-absorber in the back (from now on).
Suspension helps riders to ride more safely and comfortably on the track with roots, stones and other obstacles. A good suspension significantly compensates for shocks when the wheels meet bumps, so it becomes more pleasant to drive.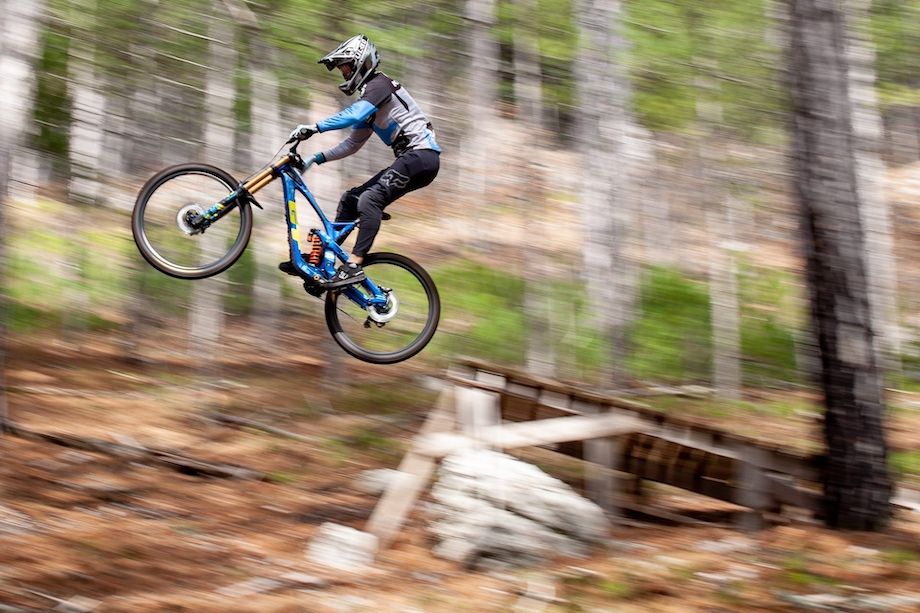 Photo: Alexander Pranishnikov
Frames such bicycles are significantly strengthened to withstand the resulting loads. Recently, they are made of carbon and aluminum. The geometry is designed to be comfortable on a strong slope. In some areas, it can reach 50-60 degrees, it is physically impossible to stop there.
Brakes – one of the most significant details. They are powerful and reliable on these bikes as they have to work 90% of the time going downhill. Brakes must withstand a large load, not overheat from long pressure. Therefore, they are always hydraulic and multi-piston. Quite often, radiators are installed on the pads for heat dissipation, and brake discs are used with a large diameter and with cooling. In order for braking to be effective, downhill bikes are fitted with soft rubber, which penetrates the ground better and holds turns more effectively. It has a short service life: the rubber wears out in a few days of active riding.
Saddle stands low and leans back a bit to make it more comfortable to ride while standing. Athletes of this discipline ride only standing.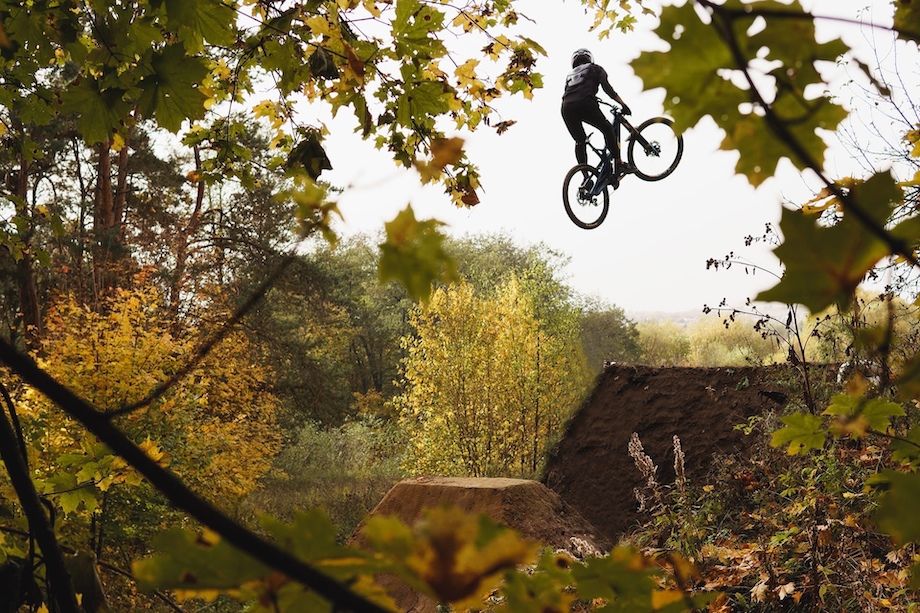 Photo: Siarhei Martynov
Where can you ride?
For rapid descent, you need to have somewhere to ride – the presence of a mountain and prepared tracks, what to ride on – the appropriate bike and protection, and what you can use to climb back to the start after the descent – a lift. These conditions are best met at ski resorts that are open for cyclists in the summer.
In Russia today, it is easiest to ride in Chirvonaya Polyana at the resort of the same name. There are many trails for beginners, bike and bike rental, and a good cable car.
There are also bike parks in Manzherok, Sherogesh, Dakhavska Slobada, Arkhiza, Banny Lake and Ozersk. Plus, there are many locations where there is no lift, but interesting tracks have been built. For example, in the Crimea it is very good to ride in Yalta and Alushta. Here, the season starts in March-April, when there is still snow in the Caucasus, and ascents to the start are carried out by cars with special trailers for bicycles.
And one of the important conditions for beginners is qualified instructors. Do not neglect their services. Skiing with them, especially if it is the first experience in the mountains, will be much more effective and safer. Cycling camps are organized in Russia, where you can come to pump up your riding level for a week or get acquainted with the downhill discipline.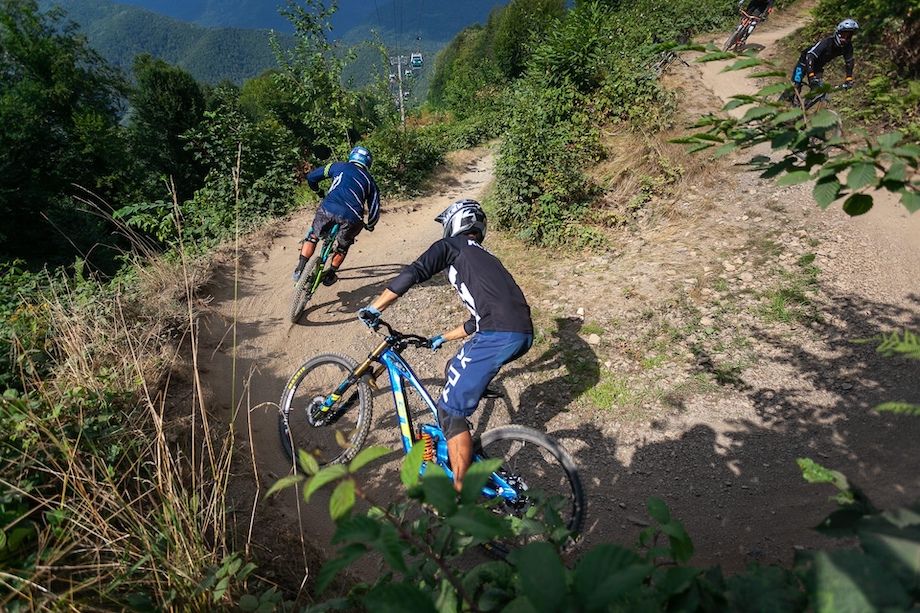 Photo: Alexander Pranishnikov
Can children?
I often see children riding with their parents on the tracks of bike parks in Europe and Russia. If the child likes it, and the parents have the opportunity to visit the mountains often in the summer, it is very cool. The main thing is not to rush children and not to pressure them, as in everything else.
You can start trying to ride from 5-6 years old, but only under the supervision of parents or an instructor.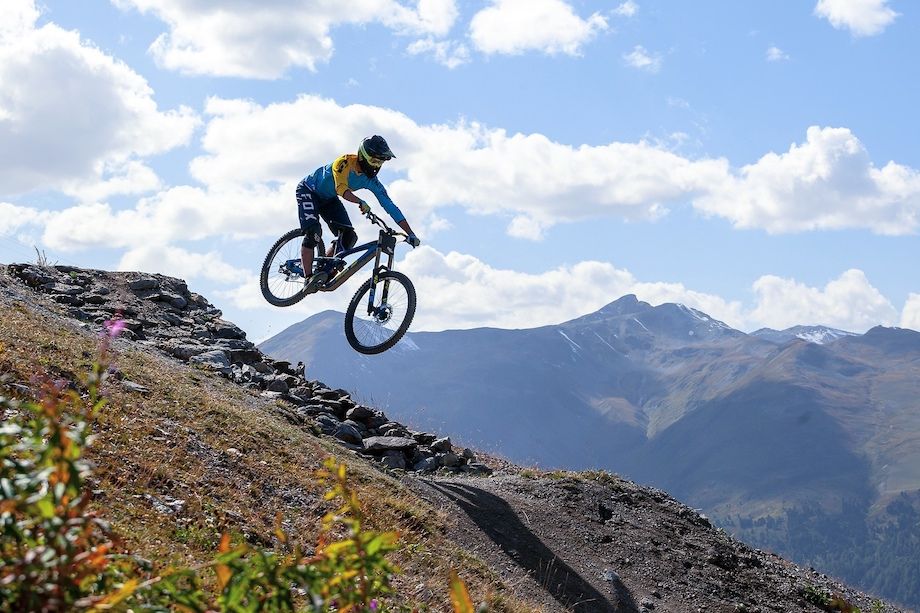 Photo: Alexander Pranishnikov
What is happening with discipline in Russia?
As a competitive sport in Russia, downhill stopped seven years ago and is standing still or even giving up. In the world – the opposite. But as an amateur – step forward. It is noticeable. Every year, more and more people come to it, which, of course, is very gratifying.